Fresh flowers are a lovely way to indulge yourself or show someone you care, a luxurious ephemeral addition to any room. Flowers are also a designer's dream, delighting the senses in multiple dimensions: sight, touch and smell. And they're the perfect complement for EcoChic furnishings, matching the organic textures and vivid hues.
We have a few simple tips for choosing a flower arrangement for your colorful coffee table.
Go monochromatic
You don't want your flower arrangement competing or clashing with its surroundings. So if your coffee table already captures a kaleidoscope of colors, choose one shade and feature it with gusto in your bouquet. For this vignette, we picked up the peach tones in the Aloft Counter Stool with these gorgeous roses. They also complement the green-blue frame of the Stargazer Mirror above. The glass vase shows off the stems for an extra hint of natural beauty.
Source: EcoChic Lifestyles
This living room is positively bursting with pattern and intensity, and the red wall provides a powerful contrast to the many shades of blue in the artwork and furnishings. Delphiniums are a fascinating choice here, as they edge the blue toward purple in order to catch the eye in this visually busy space. There's so much going on in this room, it seems like it shouldn't work at all, and yet, amazingly, it does. We could stare for hours.
Source: William McClure via Elle Decor
Look for simple but bold shapes
This shelving unit, with its green and red distressed paint finish, showcases another approach you can take for flower arrangements on colorful coffee tables. The orange flowers, bright orbs on long thin stems, have a spectacular graphic punch. And they're paired with the softer yellow blooms below, which hug the mouth of their jam jar where their orange neighbors stand tall.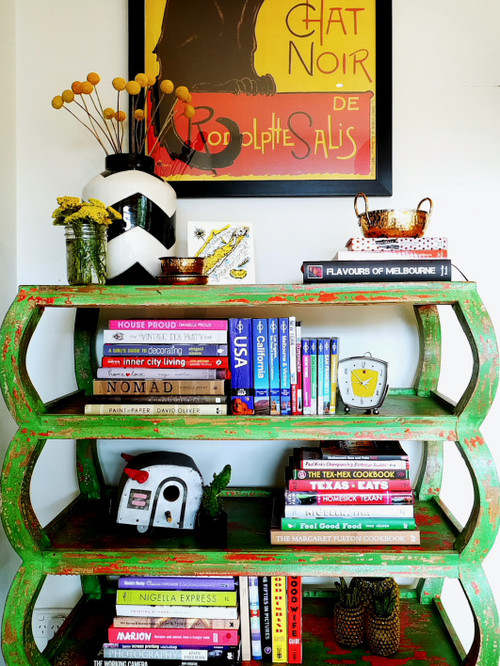 Source: Houzz
Keep a low profile
In a room that will host conversation among seated guests, you don't want your flower arrangement to obscure the view. Look for vases and flowers that stay below the line of sight. The reflective gold vase in this living room cleverly echoes the bright yellow coffee table, and the flowers themselves mimic the velvety hot pink of the side chairs. Brilliant in every way.

Source: Kimille Taylor via Elle Decor
It's hard to go wrong with fresh flowers, especially when you've got an artistic florist arranging your bouquet. But these tips will help you make the most of the blooms that take pride of place on your colorful coffee table.

Source: EcoChic Lifestyles